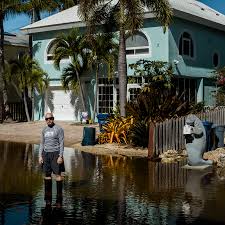 I doubt that Thorn knows who the president is.  Without a TV and no sign of newspapers or magazines in his day-to-day existence, it's unlikely he knows much about current events or pop culture.  He's a reader of books, but even his reading habits, as far as I can tell, focus mainly on classics or the occasional mystery or adventure yarn.
However, he has opinions.  They are primarily based on a deep passion for the world he is immersed in, the natural life that exists just beyond his front door and the end of his dock.  The Florida Bay, the Everglades, the coral reefs, the tides, the water quality, the encroaching development, the surge of construction and tourism in his backyard.
His opinions are largely those of a conservationist.  An interesting word in this era of super-charged partisanship.  Thorn is a conservative.  He wants to conserve and protect the natural resources that surround him, not simply because they matter to him financially (if the fishing in the Keys is seriously jeopardized, then his meager income from selling bonefish flies is also jeopardized), but because the reefs and the oceans, bays and fish constitute a national treasure, one which defined Thorn's character from his earliest days.
Even in the worst case of environmental degradation, Thorn will probably be okay because he's a survivalist.  He'll get by even if the fishing and the reefs continues to dwindle.  For years in several novels he has felt a simmering outrage about this loss and an anger toward those people who should be stewards of the environment but are all too ready to sell out.
This has been a consistent theme in the novels from the very first and because there is a political aspect to environmental protections, the Thorn novels do have a political dimension.
I have consciously tried to be even-handed in presenting politically polarizing issues, but in these charged times, I've discovered that a character like Thorn who cares deeply about environmental issues and sometimes lets loose for a paragraph or two, can piss off certain readers who interpret these opinions as a criticism of their own partisan views.
Well, if I alienate a reader now and then because Thorn notices that the tides are rising higher and higher and spilling over seawalls in the Keys and flooding streets, and the elkhorn coral is disappearing and the fish are not as abundant, then so be it.
Comments