James Hall reflects on the writing of his books starting with his highly acclaimed debut novel:
On Writing Under Cover of Daylight
In the early eighties I moved from Miami to Key Largo, fifty miles south.
I'd fallen in love with the Keys many years before and finally figured out a way to live there.
I lived a block from the water and spent many hours on my small fishing boat exploring the mangrove canals. I fished for bonefish and snapper and grouper and trout and worked part time in a local bait shop while teaching during the week at Florida International University.
When I began to work on Under Cover, I was enthralled with Key Largo. The light, the birds and water, the endless sky. I wanted to write the kind of book I'd always cherished, Travis McGee novels and work by Chandler and Hammett, and Ross MacDonald, Robert Parker and Elmore Leonard. But I also wanted to use the Keys as my backdrop and to make that place as much of a character as the people in the novel.
Thorn was the hero of Under Cover. At that time he had no other name. He's a simple guy, a little grumpy sometimes, who mainly wants to be left alone. I thought of him as Travis without a houseboat and without even the semblance of a job. He's no knight errant, just a guy who fishes for a living and scrapes by in a kind of Walden Pond existence. But violence has haunted Thorn since almost the day of his birth and it takes over his life again in Under Cover.
He wasn't just a version of Travis McGee. Thorn was also modeled on various characters I got to know in Key Largo. Tough people who eked out a living on that coral rock. People who fished and crabbed and lobstered for a living. Who came to Key Largo to escape something or other. The law, the pressures of the mainland. Something. I knew a lot of Thorns at that time and treasured them all.
I only meant for Thorn to be a character in one novel, but somehow he's managed to survive for fourteen. He's a tough guy with a lyrical love for the water and the sky and the birds of the Keys. He's who I'd be if I didn't write books.
On Writing Tropical Freeze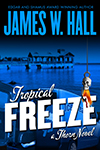 Thorn was still licking his wounds from Under Cover of Daylight when another disaster snagged him. His oldest and best friend, Gaeton Richards, was killed. And Gaeton's kid sister, Darcy, a tag along companion of Thorn's from his childhood dragged Thorn into his next adventure.
At the time I was writing Tropical Freeze I was watching the Iran-Contra hearings on television and was struck with the incredible audacity of government officials (particularly Oliver North) who flaunted American foreign policy and ran their own secret operation funded by various illegal activities. The whole mess only deepened the national cynicism about politics. With that backdrop weighing heavily on my mind I concocted a scenario that I had imagined for some time, a scheme to smuggle wealthy cocaine dealers into the US and give them new identities. Part of my inspiration for this was a friend of mine in Key Largo whose part time job involved creating and selling new identities to various folks who had moved to the Keys to start over. They weren't all criminals. Some were simply running from bad debts or marriages or something back on the mainland. And my friend supplied them with drivers licenses and diplomas and social security cards. He had a booming business.
When I was writing the ending of Tropical Freeze, I had begun to feel a gloomy sense that justice would never be done in the Iran-Contra situation. So I let that same gloomy uncertainty color the final scenes of the novel.
On Writing Bones of Coral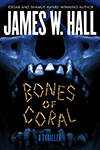 I decided to give myself a break from Thorn, and Thorn a break from me for at least one book. I'd never really intended to write a series with one character but was urged to do it by my editor at Norton. I'd always liked series characters like Travis McGee and Spencer and Lew Archer and Sam Spade, but I never pictured myself as that kind of writer. I certainly would have given Thorn's personality a lot more thought at the outset if I'd known I was going to be living with the guy indefinitely. He's kind of cranky and very resistant to becoming involved in detective work. He simply wants to fish and tie his bonefish flies and stare out at the beautiful sunsets with his wine at hand. I certainly can identify with that much of his make up.
So Bones of Coral was a chance to take a short vacation from Thorn. The book began with some reading and research I did concerning the high incidence of multiple sclerosis in Key West. The situation aroused my curiosity and I began to read newspaper accounts and several government pamphlets about scientific investigations into the possible causes of the high disease rate. When I came across a small account of U.S. military chemical warfare testing that had occurred secretly in Key West in the fifties and its possible link to the disease rate, I knew I had something interesting to write about.
Bones of Coral has one of my favorite villains, a young man named Dougie Barnes. Dougie was my version of Dustin Hoffman's portrayal of the Rainman. Only Dougie is a far more sinister character than that, a man who had a weakness for silly rhymes and young girls. When Shaw Chandler, a Miami paramedic, comes home from Miami to Key West to look into the sudden death of his father, he encounters both Dougie and his old high school sweetheart, Trula Montoya, who is a victim of multiple sclerosis. Linking Shaw Chander's father's death with Trula's MS was certainly a challenge. And spending 300 pages with Dougie Barnes was unforgettable.
On Writing Hard Aground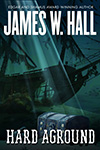 By my fourth novel I was ready to leave the Keys setting and try my hand at Miami. I'd lived in Miami for nearly twenty years and I'd always found the city's history fascinating. In my research before starting the novel, I read several histories of the early days of Miami and was seized by the photographs from that time of the Miami river. It was a lazy stream that meandered through the center of the city and was shaded by mossy oaks. A beautiful river, so unlike the straight and sludge-filled thing today that is called the Miami River.
I spoke to the city archaeologist about the river and he invited me along on a dig that he was conducting of a historical site along the banks of the river. I was absolutely fascinated by this historian's vision of the old Miami and tried as much I as I could to evoke that time a hundred years ago in this novel.
I've always liked treasure stories so I tried to use some of the aspects of such wonderful stories from my youth as Treasure Island. There is missing gold, a sunken ship that has been lost, a treasure map and a bunch of very bad pirate like guys who want to keep the hero from discovering the gold.
On Writing Mean High Tide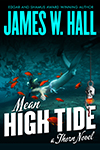 Dennis Lehane, a graduate student of mine at the time, asked if he could help me in any way with my next novel. I gave him the assignment to find some environmental aspect of south Florida that might be both colorful and have some lucrative aspect to it. I had in mind the search for some kind of rare and highly sought after seashell, perhaps, or some other marine creature. In the back of my mind was a story about Thorn travelling into the Caribbean Islands on some kind of mission. But it didn't work out that way.
Dennis came up with a fish, the tilapia, that met all my requirements. Though these days tilapia shows up on menus and in fish markets everywhere, at the time I wrote the novel, it was quite rare. I had never heard of the fish, but I saw right away that this creature had potential. It was a strange and highly fertile fish that was being used in Florida fish farms. Because the tilapia reproduced in such abundance it was a perfect fish to farm. But the danger of breeding the fish in Florida is that the environment is so hospitable that if the fish escaped into the rivers and bays of Florida they might easily crowd out the natural species and cause a major ecological disaster.
This became the central subject matter of Mean High Tide along with Thorn's passionate quest to find the killer of the woman he loved. One of my favorite aspects of this novel was the character Sylvie, an amoral and sexy young woman who lured men into trying to kill her father. I also enjoyed trying to capture in language some of the beauty and mystery of undersea life along the coral reefs of the Florida Keys.
On Writing Gone Wild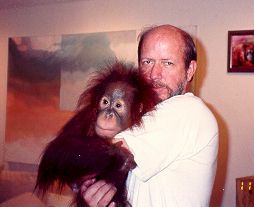 A couple of lucky accidents pushed me in the direction of this novel. The first one was the accidental meeting with a very interesting US Fish and Wildlife Officer who worked out of the Naples office. I'd met him while doing research for Mean High Tide, which is partially set in the Naples area. He was a fan of my novels and after answering some research questions I had about fish farming, he said he had a subject I might be interested in for a future novel. Lots of people approach me with ideas for novels and I almost never find them of much use. Other peoples' ideas and passions are rarely my own. But in this case, it was different. The Wildlife officer suggested I should consider writing about animal smuggling.
For a while as I researched Gone Wild, I was focusing on the smuggling of endangered snakes. But I found that it was beyond my powers to make snakes either interesting or endearing in any way. As I sought another animal to focus on, my sister in law gave me an issue of a local newspaper with an investigative article in it about the smuggling of primates. I was immediately fascinated. I sensed that apes would be far interesting to write about than snakes. Eventually my research led me to orangutans and after encountering several people in Miami who worked with orangutans, I decided that it would be important to the novel for me to go to Borneo to see orangutans in their natural jungle setting.
It was a great trip. I met all kinds of colorful and interesting people on both sides of the animal smuggling issue and I tried to bring this more international feel into the book. When the book was done, my editor said she loved what I'd done, but she wanted me to find a way to put Thorn into the novel. I was reluctant, but I did it finally. I turned a character from the original manuscript named Chip into Thorn. For this reason Thorn really never lived up to his usual heroic standards in Gone Wild. He wasn't the protagonist of the book and only played a fairly minor role in the outcome of the plot.
On Writing Buzz Cut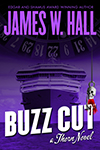 I wanted to give Thorn a larger problem to solve, something that took him farther away from home than he'd been and forced him to act on a larger stage. For a long time I'd been staring at the immense cruise ships anchored along Government Cut whenever I drove out to Miami Beach. I started thinking about putting Thorn aboard one of the ships and giving him some very difficult mission. I'm not always kindly toward Thorn, and in this case, I think part of the reason I fastened on cruise ships is that I had a perverse desire to see Thorn, a man with little affection for tourists, stuck onboard a ship filled with tourists. Of course, when I decided on this subject it meant that I would also have to take a cruise. Like Thorn, I don't look fondly at a regimented vacation in which you are cooped up with a couple of thousand total strangers and public address announcements are breaking into your tranquility on a regular basis. But I went on the Ecstasy over spring break that year, sailing to Nassau.
The first night out I won nine hundred dollars on the slot machines, which changed my negative attitude about cruises very quickly. As some readers have noted, the plot of Buzz Cut resembles the movie Speed 2 to a curious degree. There are actually a couple of dozen small and large similarities between the script and my novel. My novel was written and circulating in Hollywood half a year before the script was written, by the way. In any case, I was pleased to see that Speed 2 failed at the box office. I think the reason might be that the scriptwriter didn't steal enough of my novel.
Butler Jack, the bad guy in the novel, is one of my favorite creations. He has dismantled a stun gun and rebuilt it so it attaches to his fingers so he can zap anyone he likes without them seeing it coming. He also has a mania for etymologies. The histories of words. His riffs on the origins and etymologies of words were my favorite parts of the book to write.
On Writing Red Sky At Night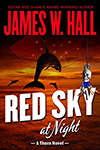 An old college friend of mine from Atlanta suggested that I might be interested in writing about the new and extraordinary medical advances in the treatment of pain. The idea didn't seize me until some months later when I spoke with my uncle who had suffered a spinal injury in a fall and was paralyzed. Almost immediately after his fall he began to experience phantom limb pain, that is, burning and cramping sensations in the legs that no longer had any feeling.
I asked my Atlanta doctor friend about phantom limb pain and he began to fill me in. Eventually I flew up to Atlanta and sat in on several consultations and rather exotic medical procedures that this doctor was performing on his suffering patients. It was an amazing and inspiring experience and gave me the motivation to go ahead with my attempt at a medical thriller.
I wrestled for a long time with the problem of whether or not to give Thorn some kind of injury that paralyzed him, or perhaps simply leave that to some other minor character. I finally decided to inflict a different kind of paralysis and pain on him.
My uncle was extremely helpful in giving me insight into the daily struggles of a paralysis victim. And I believe it was his help that gave whatever accuracy in my descriptions of the condition that the novel managed to create. On my last book tour, and again on the most recent one, I've had several people suffering various kinds of paralysis show up at my signings to let me know how much they appreciated the portrayal of their situation, and to say that putting my hero in a wheelchair, even for a short while, gave them something to cheer about.
On Writing Body Language

I decided once again that Thorn needed a break from me. For one thing, he needed a chance to recuperate and get the strength in his legs back. He also needed a chance to make some new friends. Aside from his lifelong buddy, Sugarman, an Afro-American private eye, Thorn was running low on friends. Most of them had been killed in previous novels.
I took for my inspiration in Body Language an event from the Miami headlines. At the time the reporters dubbed the event, the Dash for Cash. A Brinks armored truck broke open in Liberty City (a particularly poor part of the city) and a host of citizens grabbed up as much of the loot as they could manage. I decided to use the incident as the basis for a caper. I've had a long love affair with caper stories, those wonderful heists and break-ins or hijackings that are run like a military operation. I decided I wanted my caper to be unique. The thief decides to use the crashing of his truck to obscure the heist he's pulling off.
As I began to write, however, the novel took a different turn. The man who pulled off the caper just wasn't as interesting to me as his wife. Alexandra Rafferty is a crime scene photographer for the Miami Police Department and in the course of that job, she is forced to shoot photos of several young women who have been raped and murdered. As the novel progresses, she begins to realize that these murders are somehow related to her own past, an event that took place when she was only a girl.
I also introduced Lawton Collins, Alexandra's father. He's suffering from a deteriorating memory which makes him at times irritating as well as funny and wise and pathetic. I never knew what this old guy was going to do next, which made writing about him great fun.
The more I got to know Alexandra, the more I thought she might make a good love interest for Thorn.
On Writing Rough Draft

Once when I was in The Strand, a famous used bookstore in Manhattan, I did what all writers do whenever they enter a bookstore. I drifted back to my section to see what books of mine they had on the shelves. I found a nice looking copy of Bones of Coral, and since I only had one hardback copy of my own left, I decided to buy it.
I was standing at the checkout line when I opened the book and found it was littered with strange writing. Lots of magic markers of different colors had been used to note passages on almost every page. Other scrawled notes filled the margins. This was far more than the kinds of notations you might expect to find in a book marked up for an English class. This was way way out there.
Why a person would've taken so much time to scribble all over my novel and then take it to a secondhand store puzzled me no end. The book suddenly felt radioactive in my hands and I put it down and left the store.
I couldn't get the idea out of my head, however, and spent a long while trying to figure out a way to use that image as a starting place for a novel. Finally, I put aside the book I was working on at the time (and wouldn't get back to until Forests of the Night) and I started sketching out a story about a writer who was faced with a similar circumstance as I experienced at The Strand.
On Writing Blackwater Sound

Researching big-time marlin fishing for Blackwater Sound was certainly a pleasure. First I went to Cabo San Lucas in Mexico to attend a large marlin tournament and to get the feel for the kind of people involved in the sport. During that trip I met one of the crew members of a very successful marlin fishing team. Turns out he was a fan of my books, and he invited me to another tournament in Marsh Harbor on Abaco. On that trip I went out for one of the tournament fishing days aboard their marlin yacht and observed the workings of a very different type of fishing than I'd ever witnessed before. Very scientific, very professional.
Later as the story began to unfold in my mind, I decided to use a bit of research I'd done a while back on the use of HERF weapons, a high energy radio frequency system that can knock out electrical grids. Through a well-informed military expert I gained a good feel for what this weapon is capable of doing, and though it had the feel of science fiction, I decided to see if I could make it real and use it to play a crucial role in the novel. So those two aspects, high tech weaponry and marlin fishing became fused in Blackwater Sound, and Thorn is dragged into the middle of it all.
I also used Blackwater Sound to bring together Alexandra and her father Lawton Collins with Thorn. Alex and Lawton had been the main characters in an early novel Body Language and I liked them both so much I wanted Thorn to meet them.
Blackwater Sound was published around the same time as 9/11 and I used the experience of having published a novel that features a terrorist shoot down of a plane in a New York Times Op-Ed piece which appears below.
Blackwater Sound went on to win the Shamus Award for the best private eye novel of 2003.
On Writing Off the Chart

I still wasn't ready to let Alexandra and Lawton when I started the next book. I liked Alexandra, a tough, strong, resourceful woman, but I loved Lawton. He filled the "wild card" role that I love in novels. A wild card is a character who follows his internal logic, but that logic doesn't have much connection to the logic of the larger world. In other words, this is a character full of surprises. Normally my wild card characters are bad guys, but Lawton was so much more engaging to write because he was both spontaneous and sympathetic. He put himself and others at great risk by his unpredictable behavior. I never knew what he was going to do or say next.
The Keys have long glorified their pirate past. At one time piracy and salvaging ships that were lured into wrecking on the reefs were the main industry in the Keys. Nowadays, piracy is used as another tourist attraction. Like many kids, I was fascinated by Long John Silver and Black Beard and the other famous pirates. I'd long wanted to write an updated version of a pirate story, one that in some ways made fun of the glamorization of piracy. Pirates were bad guys. They still are.
This time I decided to drag Thorn into the quest by endangering his best friend's daughter. Sugarman's daughter, partly from imitating her "uncle" Thorn, has become an avid naturalist. So when she is kidnapped and hidden away on a deserted beach, it is her naturalist skills she depends on to save her life. This feature, eco-location, (determining a location based on observation of bird life, moon rise, and other details) was the most challenging part of researching and writing this novel.
On Writing Forests of the Night

I've had a long association with North Carolina. I first went to summer camp in Weaverville (just outside Asheville) when I was ten years old. My father and his brother had also gone to this same place when they were children, Camp Sequoyah. Over the next ten years I spent most of my summers there, learning woodcraft, hiking and camping skills and eventually being invited to attend the more rugged and elite Camp Tsali, which was a version of what later came to be known as Outward Bound camps. I went on to work at Camp Sequoyah for several years, running the kitchen and the camp store. I fell in love with the Carolina mountains back then.
Then shortly after hurricane Andrew destroyed the section of Miami where I lived and left us without power for nearly a month, my wife and I decided we needed to explore other options for summertime living. We went looking in western North Carolina for a getaway cabin and eventually settled on a place just outside of Boone.
After writing two more Thorn novels, Off the Chart and Blackwater Sound, I thought it was again time to give Thorn a vacation. While Forests of the Night opens in Coral Gables, I quickly move the action to the Smoky mountains. The book was written shortly after the events of 9/11 and the heroism and self-sacrifice of that day was much on my mind. It was a simple transition to go from thoughts of altruism to the actions of Tsali, the Cherokee warrior who sacrificed his life so that some members of his tribe would be allowed to stay in their homeland in North Carolina. There is debate about the historical accuracy of this story about Tsali, but it suited my purposes.
I began only with that one thing: Tsali's sacrifice. The other two major ingredients that had been on my mind for a while was the research I'd been doing on facial coding—the science of reading peoples' emotions in the facial muscles. I was also thinking a good bit about a friend of mine who has a child with schizophrenia. The voices he hears are as real to him as normal reality is to the rest of us. They give him instructions and direct his actions. I thought it would be a great literary challenge to go inside the mind of a schizophrenic.
So all in all, this book was a radical departure in many ways from the books I'd been writing. The subjects make for an odd assortment and the locale is very different. But I found the whole experience of writing about such different people and such a different part of the world revitalizing.
I'd always loved Cassius Clay. For one thing, he was from Kentucky as I was. And he was brash and charismatic and liked to spout doggerel. He smiled into the camera lights and made funny faces. He was a brave kid, spunky and funny and quick as lightning.
Reminiscing, I was looking through old newspapers from the year that I first came to South Florida (1964), and I discovered that Cassius had been there too, training for his championship fight with Sonny Liston, and I said bingo. I started pouring over everything I could find about that period in Miami—1963-1965, and after a short while I knew I had to find some way to set a large portion of the novel during that era.
So much was going on in Miami and across the country in the early 60's. But the thing that really brought it all together for me was Operation Northwoods. I got a whiff of it when reading about the Cuban immigration that was occurring in the early sixties. Then I started digging and found the document itself, revealed in a Freedom of Information search. It was a secret plan drawn up by the Joint Chief's of Staff that had eerie echoes to the misinformation campaign leading up to the Iraq invasion. It was, in short, a plan to provoke a war with Cuba.
I realized that I wanted to write about this aspect of "how Miami got to be Miami." And in doing that I wanted to write about politics and about Cassius Clay—a man who became a symbol of anti-war sentiments years later when he refused to go to Vietnam. So then the problem was simple. Fuse the story of Cassius Clay's fight for the heavyweight championship with some fictional event right out of Operation Northwoods. Voila: I invented a photograph that created that fusion and I was off to the races.
And once again, poor Thorn is dragged right into the middle of it.
On Writing Hell's Bay

My good friend, Geoff Colmes, a fishing guide in Islamorada oversaw the construction of a shallow-draft houseboat that was designed to carry groups of five or six for overnight trips into the very shallow waters of the Everglades. I went along with Geoff on one of these multi-day trips. We were able to spend long hours fishing isolated backwaters in Everglades, using the skiffs that were towed behind the houseboat. Some of the spots we fished were so remote, we were very likely the first white men to ever set eyes on those waters.
Hell's Bay also pays homage to one of my favorite novels, James Dickey's Deliverance. Perhaps I was also inspired by John D. MacDonald's Cape Fear, another novel featuring a dangerous houseboat journey.
In an early draft of the novel, I had intended to write primarily about the catastrophic environmental damage caused by the phosphate industry near Tampa. I did a good deal of research on that subject and was reluctant to give it up. But after I went on that houseboat expedition into the Everglades, I started to think of ways I could wed the two subjects together. Phosphate and fishing in the wilds of the Everglades. As often happens with my books, when I have to find a way to weld two very different subjects together, my creative juices begin to flow.
I realized that I wanted to write about this aspect of "how Miami got to be Miami." And in doing that I wanted to write about politics and about Cassius Clay—a man who became a symbol of anti-war sentiments years later when he refused to go to Vietnam. So then the problem was simple. Fuse the story of Cassius Clay's fight for the heavyweight championship with some fictional event right out of Operation Northwoods. Voila: I invented a photograph that created that fusion and I was off to the races.
And once again, poor Thorn is dragged right into the middle of it.
On Writing Silencer

For forty years I'd been driving across Florida, east to west, north to south, on back roads and highways and interstates. I'd always been fascinated by the wide open cattle land that occupies a great portion of inland Florida, but I'd never set a novel in that part of the state. I thought it was time.
In search for a subject, I came across a bit of Florida history that I found intriguing. Oil had once been discovered just a few dozen miles east of Ft. Myers. I drove over to see one of the last existing oil derricks, a little-visited monument in a little-visited park. My imagination started to kick in.
The other thing on my mind at that time was a hunting ranch I'd heard about from friends. Wild boars and other exotic game roamed the privately owned land that was leased out for "hunting" expeditions. Doesn't sound very sporting to me, and the more I researched this, the uglier it looked. So I decided to see if I could put those two very different ideas together. Oil in Florida and a hunting ranch.
While tramping around the area I intended to write about, I discovered that there are an abundance of sink holes dotting the landscape. So add a third thing to my list of ingredients. Now, as usual, the next challenge was getting Thorn involved. I'd given Thorn a lot of problems over the years, but giving him a vast sum of money (something he had absolutely no use for) presented him with a whole new level of danger. How does Thorn spend his fortune wisely? Answer: He doesn't.
On Writing Dead Last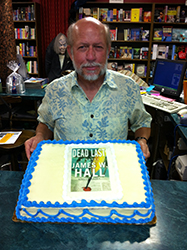 As is often the case, I rubbed two very different subject matters together to come up with the idea for Dead Last. At a library event I bumped into Matt Schudel, a journalist friend who formerly wrote feature stories for the Florida Sun-Sentinel. He told me he'd moved to the Washington Post and was writing obituaries. I asked him how it felt to be an obituary writer. (I was under the impression that he'd suffered a demotion.) He told me that it was the most challenging and invigorating writing he'd ever done. So I immediately began to read his obituaries and was impressed. To capture the richness and emotional heft of a person's life in a few hundred words is am amazing feat when it's done well. This began a several month period of research in obituary writing in general.
The other subject I was interested in at the time was TV production. One of my former students and now friend, Terry Miller, was having a very successful career in Hollywood. He was assistant first director on major films like Ace Ventura, Die Hard, and Lethal Weapon. At the time I was planning the new novel, Terry was producer of the TV series, Burn Notice, being shot in Miami. Terry invited me to the set and some of the material I gathered during those visits helped shaped the storyline of Dead Last.
Forging a connection between obituary writing and TV production may seem weird and incongruous, but that's just the kind of challenge that stirs my creative juices.
I'd never written a straight out serial killer novel before, and I had my doubts that I could bring anything new to the genre. But when Thorn discovers that he has not one but two sons he didn't know he had, I realized I was writing something more than a simple whodunit.
On Writing Going Dark

After I discovered Thorn had two grown sons, I thought it was only right to keep them in Thorn's life somehow. What would a next-generation version of Thorn look like? What Thorn's kid's passions be? Because Thorn is so devoted to the natural world, it seemed obvious that at least one of his sons should share that commitment. I decided to ratchet up that interest in environmental issues. A son who out-Thorned Thorn. I'd been fascinated for some time with the views of eco-radicals. In particular, I began to focus on ELF, the Earth Liberation Front, a loosely organized group of environmental activists around the U.S.
The question I asked myself was this: If Flynn got involved with an ELF cell in South Florida, what might their target be? The biggest target I could imagine is Turkey Point, the nuke plant on the edge of Biscayne Bay in southern Miami-Dade County. I'd boated past the plant many times and always been struck by its awesome and somewhat ominous presence.
Then I remembered an old friend of mine, wildlife biologist Joe Wasilewski. I knew that one of Joe's many projects was working with crocodile nesting areas in the cooling canals of Turkey Point. Joe was generous enough to take me out on an airboat and cruise through those cooling canals, a journey which gave me a close-up view of the plant itself and made me start to wonder how a group of naïve environmental activists could defeat the major league security of a nuclear power plant in order to stage some kind of publicity stunt.
That was the nugget of the story. As is always the case with a Thorn novel, once I know the subject matter the next big hurdle I must cross at the outset is to answer this question: "How the hell can I get the reluctant, anti-social, loner Thorn to engage in the next crisis?" Well, in this case, having a son who's mixed up with a band of not-so-non-violent activists made answering that question a lot easier than usual.
On Writing The Big Finish

The Big Finish began with the usual question: how do I get Thorn, the reluctant hero, to engage in yet another adventure? Since I ended Going Dark with a scene of Flynn driving away with his friends in the eco underground, I thought it seemed natural to begin the next novel with Flynn's story after departing from Key Largo. As I assembled a list of likely eco-warrior campaigns that Flynn might be engaged in, one stood out from the rest. It may seem an unlikely challenge to set a thriller in an industrial hog farm operation, but the subject gave me a chance to write (again) about my adopted state of North Carolina, the second largest hog producing state in the country.
Even from the beginning of this novel, I had the feeling that this could be the last Thorn novel. From the very beginning I've had an ambivalent relationship with him. He's an ornery guy who makes a lot of mistakes in his social life and his crime fighting life. He's not the comic book superhero that seems to populate so many crime novels these days. He's flawed, fallible and grouchy. And through Thorn's point of view, I'd been writing about Florida for over thirty years, describing the weather and the landscape and the colorful characters of the state for so long that I felt I was in danger of repeating myself.
So as I began the novel with the thought in mind that this might be the last Thorn story, a mournful tone settled into the prose. I thought Thorn might actually die by the end of the novel. I tried to balance that somber tone with some strange and wacky characters who are overflowing with energy. For me, this was the great challenge and the final reward of the book. A novel that is full of emotion and sadness, but also of courage and commitment.
On Writing When They Come For You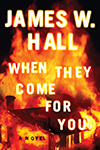 As I considered a writing future without Thorn, I got excited about the idea of creating a new series hero/heroine from the ground up. I'd never intended Thorn to be a long term character, so this was a new test. What would my ideal series character look like? Creating an individual who might have an on-going quest and one who is equipped with the resources to handle that quest was a good deal more challenging than I first imagined.
Also, after so many novels set in Florida, I wanted a character who would allow me to flex new descriptive muscles. I wanted someone who was at home in many places around the world. She should be able to speak other languages, have friends or acquaintances in wide range of international locations. She should have sidekicks who were both colorful and added to her capabilities to investigate subjects and help her tap into a vast array of resources. I didn't want her to be a trained spy or a cop. I wanted her to be a civilian who was thrust into this quest but was sufficiently equipped, physically and emotionally, to deal with bad guys of many types. I wanted her to have a profession that was creative, but also served as an entre into lots of different milieus.
When I was developing plot and subject matter ideas for When They Come For You I was looking for a storyline that might keep my protagonist busy for multiple novels, and something with a new subject for each new book. In some of the Thorn novels I'd dug up information on a particular global food corporation and I decided to return to that corporation to fuel the action in the new novel. The first book focuses on cacao bean production and the chocolate industry while the second book probes the business of olive oil. My protagonist, Harper McDaniel, has a passionate reason to declare war against this food corporation, and the twists and turns of the plot grow out of actual criminal behavior that various food/agri businesses engage in.
I took longer than usual to write this novel, but the more time I spent with Harper McDaniel and her sidekicks, the more I became convinced that she was indeed a worthy successor to Thorn.
On Writing When You Can't Stop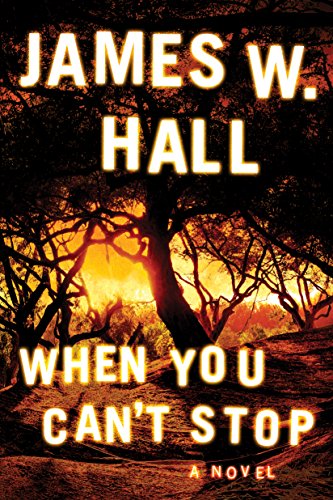 Harper isn't satisfied that justice was done to those responsible for the deaths of her husband and child. Before she can plunge back into the pursuit of the killers, she must recover from serious injuries she incurred in the previous novel. As part of her recovery process she begins to work with a martial arts instructor who helps hone her old fighting skills and pushes her into new territory of quickness and focus, all of which she will need to combat the twisted antagonists she must face.
The olive oil industry becomes a major focus in the novel, forcing Harper to travel to Spain and on to Italy where the olive groves that sustain the industry are under threat by forces that Harper must thwart if she is to take down adversaries that will test all Harper's grit and ingenuity. I lived in Spain for a year (Bilbao) and have visited Italy several times, so I relied a lot on those memories and on Google and GoogleEarth for some details.
On Writing Bad Axe